Intuit: Power of Giants
Media Type:

Film
Everyone deserves a prosperous life, but the path to prosperity is not easy for all. That's why Intuit's Giant solutions—TurboTax, QuickBooks and Mint—give you confidence to achieve your goals, no matter what they are. At Intuit, we believe the world only prospers when everyone prospers.
Credits
Director:
Against All Odds
More from Intuit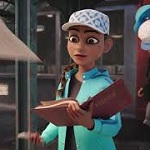 Intuit: A Prosperity Story
5.5
Latest News
Nov. 14, 2019
Best-in-region awards added; early submission deadline to qualify for discounted entry fee is November 29, 2019.
Nov. 14, 2019
Serviceplan Campaign conceive heart-warming Christmas advert for PENNY as an antidote to the everyday worries associated with adulthood.