StubHub: Machines
Media Type:

Film
The next time you're debating whether or not you should go to a concert, just remember that eventually the machines will take over, and the world will end. And when it does, you don't want to have any regrets.
More from StubHub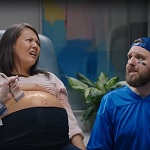 StubHub: Be There
9.0
StubHub: Festival
0.0
Latest News
Jan. 22, 2020
Bandai Namco Entertainment Europe and Biborg announce the release of Captain Tsubasa
Jan. 22, 2020
Awards ceremony takes place on February 25, 2020 at SVA Theater in NYC.