U.S. Air Force: Join The Fight
Media Type:

Film
A job for the physically strong and mentally tough, the Airmen who serve in Air Force Special Warfare have four distinct specialties. These elite heroes are the ones other special forces look to because they're trained to go where others won't and do what others can't.
More from U.S. Air Force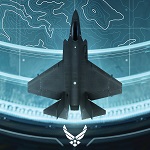 U.S.Air Force: Command the Stack
9.0
U.S. Space Force: Make History
9.0
U.S. Air Force: Calm and Storm
9.0
Latest News
Nov. 28, 2023
Respected and admired leaders of the advertising and marketing world join the Grand Jury for the 6th edition of the award
Nov. 28, 2023
He's led long-standing influencer campaigns for American Express, Audible and Samsung and The Coca-Cola Company.