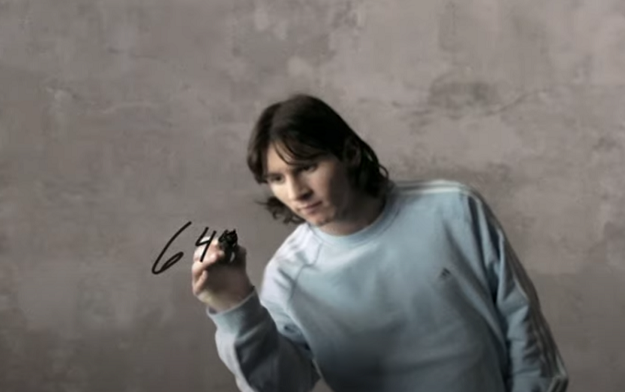 Ad of the Day | Adidas Marks Lionel Messi's Record-Breaking 644th Goal for Barcelona with "Impossible is Nothing" Remix
Dec. 23, 2020
Yesterday, Argentinian sporting icon Leo Messi scored his 644th goal for Barcelona, beating Pelé's 1974 record for the most goals scored by one football player for one club.

To mark the occasion - one of the biggest moments in football this year - Messi's sponsor adidas has created a remixed version of its famous 'Impossible is Nothing' campaign from 2006, which was the star's first year of sponsorship with the brand.
The edited footage of the 2006 advert features Messi being asked 'Leo, as a one club man, how would you rewrite football history?' Messi proceeds to write down the number '644,' a record many people thought of as impossible to achieve. The film is now live on adidas football and Leo Messi's social channels.
The campaign has been developed by We Are Social Sport, the sports specialist division of socially-led creative agency We Are Social.
Fabian Staudinger, Global Brand Marketing Manager, adidas football said:
"Using footage from the first year of Lionel Messi's partnership with adidas, we wanted to create a film that demonstrated his great athletic integrity and determination. Nearly 15 years later, this is not only a celebration of this historic record break but of our relationship with one of football's greatest ever players."
Gareth Leeding, Executive Creative Director, We Are Social added:
"Messi's record is one that not many thought was possible, and now nearly 50 years on from Pelé's 643 goals for one club, we wanted to create a fitting tribute and celebration of this incredible sporting achievement from Messi. By reworking footage filmed nearly 15 years ago, it brings about an undeniable sense of nostalgia, as well as possibility, framing this moment as a key piece of footballing history."
Related News
Feb. 25, 2021
Jo Lumb has been promoted to head of We Are Social Studios
Feb. 22, 2021
The campaign is supported with a paid media strategy from Carat
Dec. 03, 2020
Shoppers can access the jumper virtually for free through the hugely popular Nintendo game, Animal Crossing.
Latest News
Mar. 01, 2021
The storytelling unravels between the small moments of everyday life
Mar. 01, 2021
Gerety Announces International Women's Day Summit & Sets the Deadline For Entries To Its 2021 Award Show At April 2