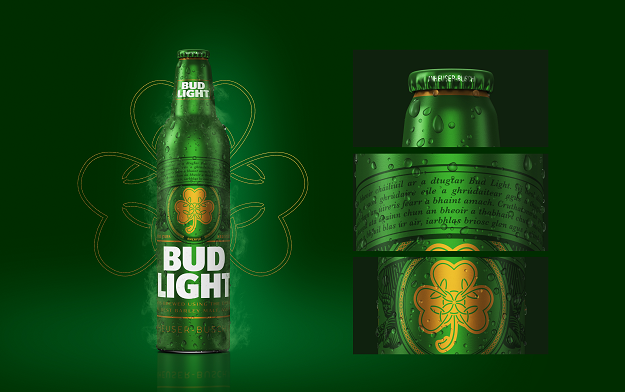 Authentic. Irish. Bud Light?
Mar. 13, 2019
The last thing that springs to mind when someone mentions the dewy rolling hills and tranquil pastures of Ireland, is Bud Light. But this St. Patrick's Day, the light beer brand is determined to take things seriously, with a bottle inspired by Ireland's rich history and traditions.
Designed by FCB/RED – the retail division of FCB Chicago – the bottle includes accurately translated Gaelic writing in place of the classic Bud Light banner, Celtic knots steeped in traditional Irish folklore and the original three-leafed shamrock instead of the incorrect four-leaf clover that's so common today. Even the color of the bottle was inspired by the hue of the grass in the Killarney Hills.
Chief Creative Officer Liz Taylor, says:
"When consumers think of Ireland, Bud Light is typically not the first beer that comes to mind. It was important for us to create something authentic and meaningful – beyond a green bottle – so that light beer drinkers can be equally proud of their brew on St. Patrick's Day."
Stacey Mikula, Sr. Brand Director, Bud Light Innovation, sais:
"We're confident that any Bud Light drinkers will be relieved on St. Patrick's Day, knowing that they can feel authentically Irish, without having to do anything crazy like drink stout."
The exclusive bottles are available in select bars over the St. Patrick's Day weekend.
Related News
Sep. 11, 2019
Network's New York Office Celebrates Unibet's Passion for Sports Betting After Winning the Brand's U.S. Business
Sep. 09, 2019
Some customers will be in with a chance of receiving a £50 voucher.
Sep. 05, 2019
The campaign will officially launch today – be on the lookout on connected TVs, digital and social media.
Latest News
Sep. 19, 2019
The activation follows Fanta's 2018 Halloween campaign
Sep. 19, 2019
IRFU and ROTHCO help colour-blind fans to support the national team at the Rugby World Cup