Burger King Lifts The Bun On The Whopper's Secret Ingredient
May. 17, 2021
In a world full of fake news and recipe secrecy, Burger King UK is today launching a major new campaign showing the nation that there's no secrets behind it's famous Whopper burger: it's just fire. Whilst Burger King might be synonymous with 'flame-grilled' to many, people up and down the country have thought up countless theories behind the product's secret ingredients. After all, how could the secret possibly be fire? It tastes too good for something so simple.
To put the conspiracies to bed, BBH has created a campaign showing the nation how fire impacts the quality of Burger King's much-loved food. Ratherthan being simply a cooking method, the fire represents a key ingredient. In Whopper terms, flame-grilling means a smokey smell. It means locked in juices and intense taste.
Inspired by actual theories from members of the publicon Reddit, the campaign consists of a series of films in which the viewer is immersed in a worldof Whopper flavour conspiracy, only to reveal the one and only Burger King secret: fire. The first spot in the series, launching today 17th May, opens on a pair of customers in a Burger King restaurant discussing the theory that the smokey flavour you get in a Whopper is in fact a liquid smoke. The film, directed by Andrew Gaynord, ends on the tagline 'It's not a secret. It's real fire.'
In a first for Burger King UK, the campaign also features an interactive AR experience at digital OOH sites across all major cities in the UK from May 21st. The installations invite passers-by to scan the QR code to activate an Instagram lens. Using the poster as a marker, the smoke comes directly off the Whopper and will lead you in theprecise direction of the nearest restaurant.
makemepulse created a series of directional lenses that also offered short and long view smoke to align with the exact positioning of the installation. With a total of six different smoke directions, members of the public are led to the one place tobe: Burger King. Because where there's smoke, there's fire. And where there's fire, there's Whoppers.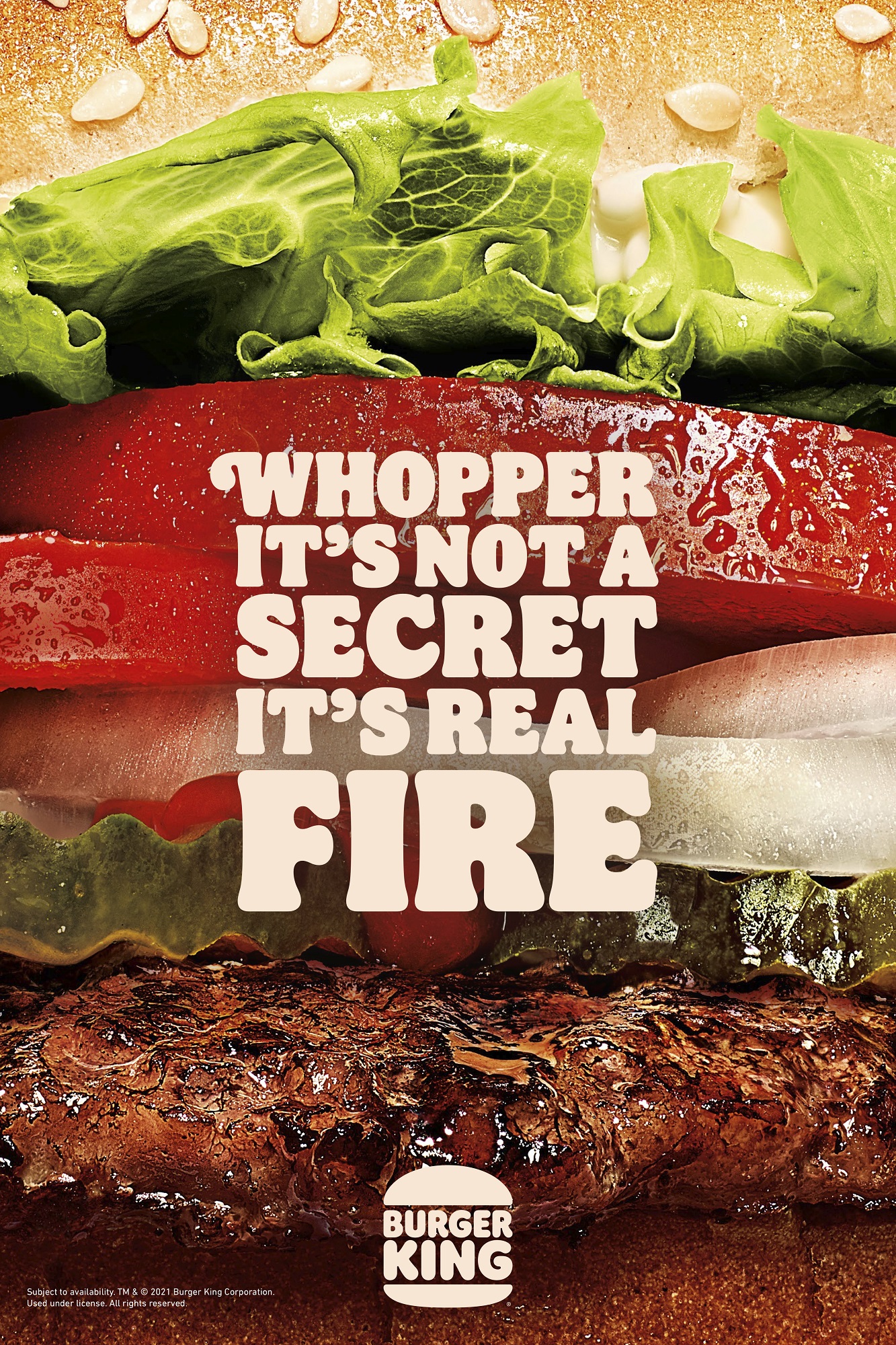 Finally, the campaign also includes an OOH campaign, crafted by Spanish illustration duo Cachetejack, in which Burger King's juicy flame-grilled Whopper burger and its fresh ingredients take centre stage.
The campaign is the first major UK launch of the newbranding since its reveal in January.
Felipe Guimarães, Creative Director at BBH, said:
"When I first heard about the crazy conspiracy theories about the Whopper's flavour, I couldn't believe it. Deciding to make those theories the basis for a campaign felt both insightful and quite funny. The result is a series of ads, with characterswe can't help but warm to."
Soco Nunez, Marketing Director, Burger King UK said:
"The Whopper's secret is that there are No Secrets; Just Fire. It's that simple. Flame-grilling is what gives the Whopper its unique flavour. In a world of fake news people find it hard to believe the incredible taste of The Whopper can be that simple, but it really is. At Burger King we pride ourselves on being transparent with customers, and offering them great tasting food, so, we won't be keeping any secrets about our delicious burgers. They're all real, with no artificial colours, flavours or preservatives. We're very excited to launch our AR smoke signals in select locations this week. We're hopeful the experience will help see customers return through our doors for indoor dining following the easing of Covid restrictions, as well as providing a cheeky reminder of why the Whopper is one of a kind."
Related News
Jul. 12, 2022
Burger King Belgium decided to slip ephemeral tattoos with the words "It's even better when grilled with a flame" in all its King Junior children's menus
Jun. 30, 2022
Through a series of 5 films by Buzzman, Burger King showcases the French ingredients in their menus
May. 27, 2022
The project asks composers to create a piece of music in response to a self-selected work of art
Latest News
Aug. 19, 2022
Paddy Power have unleashed an American Beauty of a TV ad
Aug. 19, 2022
Director Zack Grant and Hooligan Editor Peter Mostert recently collaborated on a short film about Parkinson's disease titled Morning Walk