Gerety Awards Announces Indian Production Company of the Year
May. 30, 2023
Prior to the shortlist announcement due Tuesday, June 13th and following the Mumbai judging session hosted by Dentsu Creative India, the Indian production company of the year is announced. The Gerety Awards brings together an all-female jury to select the best in advertising from a powerful perspective, creating a benchmark that is relevant to the market reality, all while redefining the standard to which advertising has traditionally been held.
Production Company of the year by country is chosen by the local juries from the portfolio cut and requires a single film no longer than five minutes in length and includes up to three pieces of work from the past 12 months.
Vanilla films were awarded for their portfolio cut entry that included the following spots:
Title: "Robbery"
Title: "Hand Ambassador"
Title: "Forced Packs"
Harshik Suraiya, Co-founder / Director said:
"We're thrilled to be named the "Indian Production Company of the Year". Gerety is known to award world class work and this just puts us on the same pedestal. We're immensely thankful for this title and to the jury who recognized the hard work we've put in all along. We might be called the "production company of the year", but I take this award for the sheer heart we've put into every project since Vanilla's inception. Every little step we took with each project happened because of the thought that was put into it. This award is the culmination of all those little decisions we've made in the last 5 years and we're truly honoured. Finally, no award is one man's work. So, we would like to thank our agency and production partners who've walked this journey with us throughout."
Don't miss the Gerety jury insight panel for India and watch some of this year's jury as they discuss trends and favorite campaigns from the 2023 Gerety Awards. RSVP Here.
The panel will include:
Gia Fernandes, Group Creative Director, Dentsu Creative
Siddhi Yadav Machado, ECD, McCann Mumbai
Binaifer Dulani, Creative and Founding Member Talented
The global shortlist will be announced on Tuesday, June 13th, 202
Related News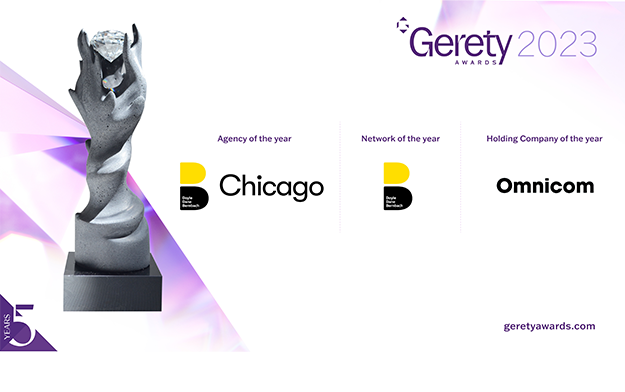 Sep. 12, 2023
DDB and Omnicom Take Top Honors at the 2023 Gerety Awards
Sep. 08, 2023
Gerety Talks with Tahirah Edwards Byfield, Katie Martin, Alyssa Georg and Sam Davenport. Tuesday, September 12
Sep. 05, 2023
The 2023 Gerety Awards jury have awarded 4 Grand Prix, 27 Gold, 69 Silver, 65 Bronze, with 159 entries remaining on the shortlist
Latest News
Sep. 22, 2023
Android humorously addresses common texting issues due to outdated messaging technology used by a competitor
Sep. 22, 2023
The versatile stage and TV actor reprises his role as the scenic destination Burgenland's brand ambassador