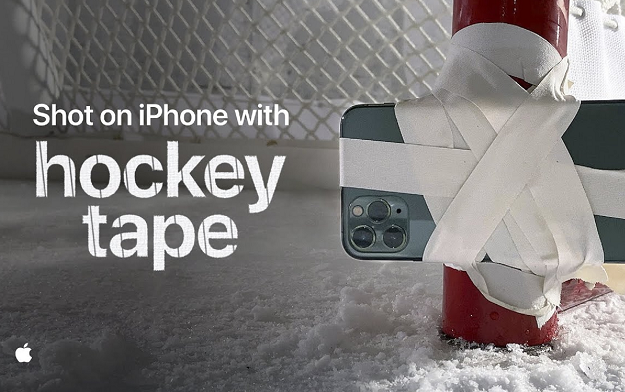 GLP Director Gary Land Hits The Ice For Shot On iPhone's "Hockey Tape"
Aug. 05, 2020
The new Shot on iPhone commercial, directed by Gary Land of GLP Creative, is a smile-inducing work of camaraderie on the ice featuring the antics of Vegas Golden Knights' Marc Andre Fleury and Mark Stone. The project, which was filmed just before the shut-down, launches as the NHL Playoffs begin and is a celebration of play and performance.
Land, is an avowed sports enthusiast who plays hockey and is known for directing sporting greats with personality and style. He lensed last year's Shot on iPhone "Our Game," which passionately captured the phenomenon of Cricket in India with intimacy and intensity. For "Hockey Tape," Land and his team faced off an impending production shut-down and leapt into action to bring the project to life. Filming at an ice rink in Las Vegas, the spot required extensive pre-light and stand-in players to test the form and function of what they aimed to film: the fun interplay of two hockey pros and the ability of the iPhone 11 Pro to be at the center of the action.
Land credits the players' friendship and professionalism, the technical prowess of the iPhone 11, and copious amounts of hockey tape, as essential elements in producing and directing such a joy and trick shot-filled return to the ice. Production, like sports, is the product of many moving parts and passionate people that come together to create. It seems fitting to note that hockey slang for assist is "Apple."
Gary Land comments:
"Watching sports is a collective experience even when you are viewing from home. There's a kinship - players and fans - and it's very much infused in this piece. Although we are all going through very tough and uncertain times, if this spot can bring a momentary lift and a smile to those who see, that'll truly be a goal fulfilled."
Related News
May. 26, 2020
"Bounce" for Apple, TBWA\Media Arts Lab Los Angeles landed the top agency position in the world in the ADC Awards 2020 Global Rankings
May. 22, 2020
"Bounce", done with Pulse Films and Framestore, was also awarded Best of Discipline in Advertising
May. 21, 2020
Best of Discipline winner in Motion/Film/Gaming Craft was TBWA\Media Arts Lab with Pulse Films and Framestore
Latest News
Sep. 21, 2020
Well known campaigns feature on the 2020 shortlist.
Aug. 13, 2020
The hero film breaks on television and online starting August 13