Taimi Puts a Spotlight on True American Values in its new Brand Campaign
May. 22, 2023
Taimi, one of the world's largest queer dating apps, together with Emmy & Clio award-winning marketing agency Known, announce the launch of a national campaign to celebrate American core values, the importance of freedom, acceptance, inclusion, and liberty of self-expression.
The campaign includes provocative photography which portrays American culture in a rainbow light, speaking directly to the target audience of the LGBTQ+ current and prospective Taimi users. The images will be seen through a robust multi-platform campaign and live on billboards across America, with a message that is impossible to ignore.
"America The Beautiful," the patriotic song written by professor, scholar and, assumed, queer poet Katharine Lee Bates, is the main source of inspiration and reference for the campaign's key messages. By reimagining the narrative and bringing it to life in a completely different way, and repositioning the lyrics as a queer anthem, this is a call to all Americans with a message that is impossible to ignore.

Yana Andyol, Head of Brand and Communications at Taimi said:
"With America the Beautiful campaign, Taimi sends a powerful message of support to the queer community whose liberty and human rights are under threat right now. We invite every American to view the original anthem as a unifying national force that speaks values every citizen is entitled for. Every time a member of queer community speaks their truth, defends their right to express themselves, and demands equal opportunity to exist proudly and safely, they are doing something that is decidedly American. Dehumanizing people for being gay, bisexual, lesbian, transgender is an authoritarian narrative that contradicts all those liberties the citizens of the United States have been fighting for. We will stand with our users for their right to love, express, and simply live their lives in the country that should not attack them but protect."
Taimi is here for the progress, change, and future that will be inclusive, tolerant, and loving no matter your sexual orientation. This campaign is also meant to amplify the importance of challenging the status quo in turbulent times and aims to produce a cultural awakening for prospective Taimi users in communities with less LGBTQ+ visibility or acceptance in America and beyond. Through these efforts, Taimi hopes to shift American culture in a way that will positively impact the LGBTQ+ community and ignite a cultural awakening.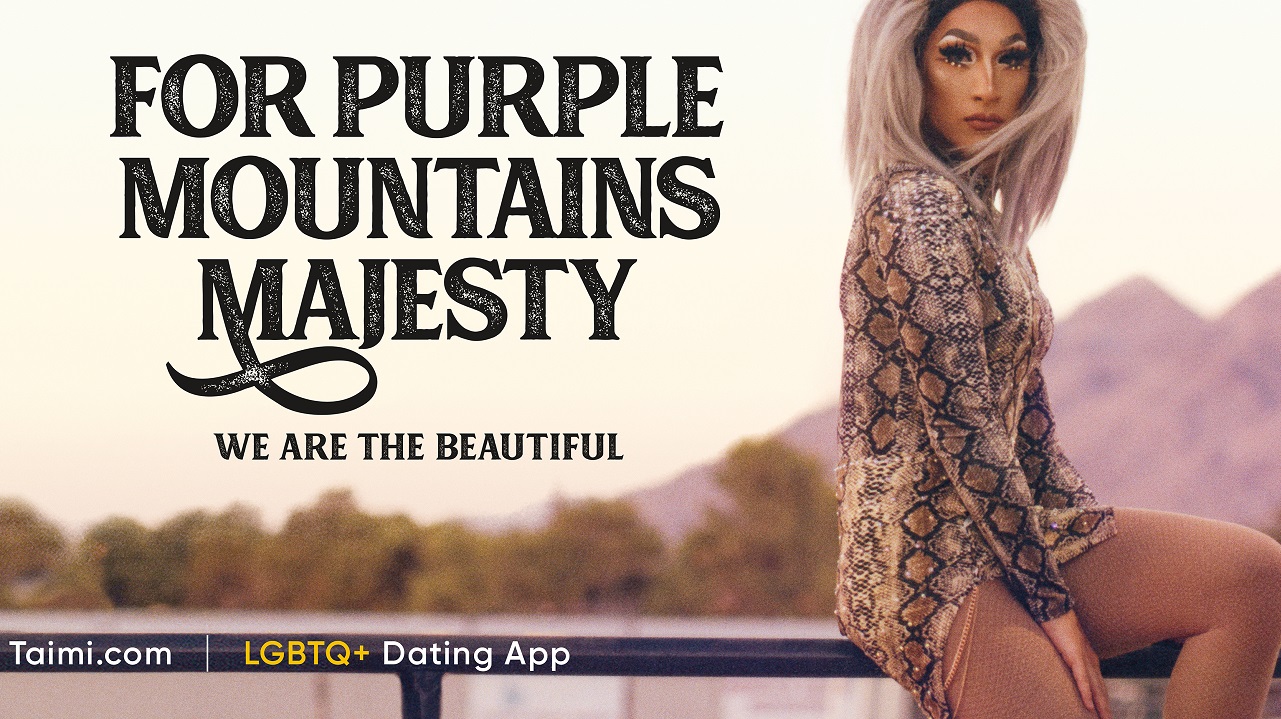 Within the last 18 months, hundreds of anti-LGBTQ+ laws have been passed or submitted in the United States, and it's seriously affecting the community. Various threats, from legislative attacks to mass shootings, don't let the LGBTQ+ community feel safe. But Taimi believes it's not the way it should be. That's why the company is loud and proud, beautiful and queer! People deserve to be able to express themselves, love who they love without prejudice or shame, without fear. America The Beautiful is a manifest of diversity, a manifest of freedom. America the Beautiful is a reminder that freedom is for all of us, not a select few. Support of anti-LGBTQ+ laws contradicts America's core values.
Ross Martin, President of Known said:
"Known is proud to partner with Taimi as we fight for the fair and just treatment of the LGBTQ+ community in the U.S. When we set out to bring this campaign to life, most OOH owners refused to run the images and asked that we change the creative vision of the work if we wanted to do business with them. We will never do that. The core message of our campaign, set to the powerful words of Katharine Lee Bates is too important -- especially right now. We are grateful to all those who are helping us share this work, many of whom have donated their spaces to ensure this message will reach tens of millions of Americans. We're grateful to Taimi trusting Known to help tell their powerful story."
Related News
Aug. 21, 2023
Celebrating the brand's curious, adventurous guests, Generation G brings new meaning to Graduate's motto "We Are All Students"
Apr. 28, 2023
New slate includes projects with Amazon Prime Video, Roc Nation, Universal Music Group, and Three-Picture Deal with TIME Studios
Latest News
Sep. 27, 2023
Yell Advertising reflects on its campaign to drum up engagement with Thailand's number one cooking gas brand, PTT LPG
Sep. 27, 2023
Wonder Bread and Old Spice, two iconic brands made even more iconic when each was prominently featured in the 2006 sports comedy Talladega Nights