Lolipop: Frog
Media Type:

Print
Best Not Shared
Credits
Executive Creative Director:
Raul Serrat
Creative Directors:
Michael Kathe
,
Nicolas Vontobel
Senior Art Director:
Hanning Beland
More from Lolipop
Lolipop: Bear
9.5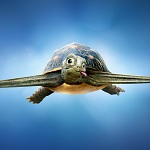 Lolipop: Turtle
9.3
Latest News
Mar. 25, 2019
There are 10 executive judging sessions held around the world that will create the shortlist.
Mar. 25, 2019
"C'est Magnifique" premiers on TV March 24th and March 27th in cinemas.