no photo available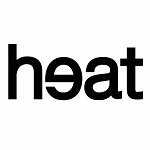 Heat
Advertising (Not basketball). Heat is a creative agency that believes in the power of surprise to build brands, solve problems and kindly take over the world.
Latest News
Oct. 19, 2017
Cast Members from Netflix Original Series 'Stranger Things' Hand-Deliver LG OLED TV to Unsuspecting Fan
Oct. 19, 2017
The campaign encourages consumers to sign up for a BMO Harris Bucks Debit Mastercard with a bank that loves the sport as much they do.