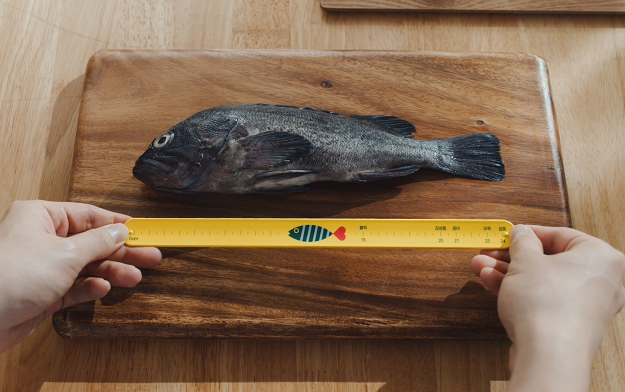 Ad of the Day | A new campaign by Cheil supports conservation of fishery resources
Oct. 30, 2019
Cheil Worldwide presents a new campaign FISH LOVE Band to protect fishery resources during the highest fishing season by partnering with WWF(World Wildlife Fund) Korea and Ministry of Oceans and Fisheries.
FISH LOVE Band campaign gives out slap bands that can help measure the length of a fish to distinguish immature fish from older ones. The campaign aims to raise public awareness on excessive fishing of immature fish since it is a big threat to sustainable fishery in Korea.
According to Ministry of Oceans and Fisheries, Korea's coastal fishing production dropped to less than 1 million tons in 2017 for the first time in 44 years; a wake-up call for fishery resources management. Especially there is a growing need to protect fry due to significant demand on immature fish as delicacy or grounded feed.
FISH LOVE slap band is a wearable fashion item while it works as tapeline when unrolled. On the band, the prohibited capture length of seven common fish species during the peak fishing season such as red seabream and mackerel are marked. Anyone can distinct an immature fish from an adult fish by measuring its length with the band at fishing place or fishery market.
Jinwoo Ryu, Art Director at Cheil Worldwide:
"Slap band is a toy once so popular when I was young, and also a perfect item to remind people not to eat or catch young fish in their everyday lives. As fishing population is getting younger as it has become a new trend in TV shows, FISH LOVE Band will exhort a sense of nostalgia and play as a practical fashion item."
Starting from late October, Cheil, WWF Korea and Ministry of Oceans and Fisheries will distribute 20 thousand FISH Love bands nationwide at fishing festivals and through WWF website. Celebrities including athlete, musician, actor and chef will take part in the campaign to draw more public attention.
Youngran Lee, team leader of Ocean Conservation Program, WWF Korea:
"FISH LOVE Band campaign is a promise to preserve ocean owned by every one of us. People's change of perception is what we need most in order to turn our ocean into a sustainable one."
Related News
Jun. 09, 2020
The raft, the edge and the grove. These are some of the tables that can be booked at Nowhere...
May. 18, 2020
Zoom Filters that Help you fight Homophobia...
May. 13, 2020
The updated packaging for Sun-Maid snacks will continue to roll out nationally through 2020.
Latest News
Jun. 29, 2020
Maersk charts new territory with business transformation, connecting the world in new ways
Jun. 29, 2020
No Purchase or Payment of Any Kind is Necessary to Enter for a Chance to Win