Ad of the Day | Honda uses F1 to launch "Powered by Honda" positioning across range of products
Apr. 04, 2019
Digitas UK has created an animated film showing a variety of Honda-powered vehicles and machines racing against each other. It aims to promote Honda's leading role in Formula One, following the successful launch of its new partnership with Aston Martin Red Bull Racing and its existing partnership with Scuderia Toro Rosso.
The high-octane 60, 30 & 15 sec-second film will run across Twitter, Instagram and YouTube. It breaks on 4th April.

The film highlights Honda Racing's new strategic position, "Powered by Honda", reviving the strapline made famous on the F1 cars that won so many races and championships between 1988 and 1992. The stylised film shows iconic Honda vehicles – performance cars, motorbikes, lawn mowers, speedboats and even an aircraft – all of which share being powered by Honda power units – participating in a race on an F1 racetrack. At the end of the animated sequence, they all morph back into Red Bull and Toro Rosso F1 cars and the film switches to real footage of the cars on a track.
Peter Drake, Executive Creative Director at Digitas UK, said:
"Using animation gave us the freedom to create an extraordinary imaginary race sequence to showcase Honda's unique attitude. Then revealing the 2019 Honda-powered F1 cars in live action unequivocally brings the 'Powered by Honda' line to life."
Related News
May. 19, 2020
Far from the codes of the motorcycle sector and the maxi-trail universe...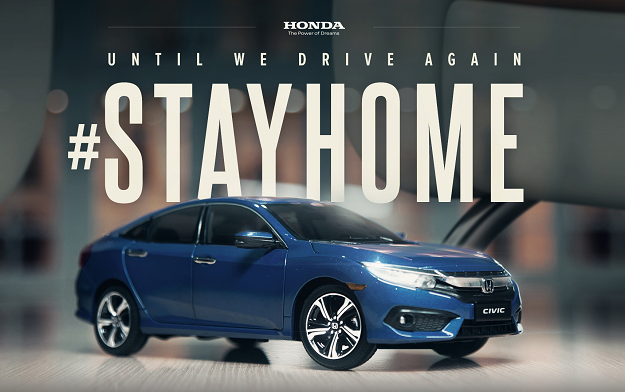 Apr. 09, 2020
To make this possible, Honda UAE together with Memac Ogilvy, Dubai used a Honda Civic miniature car.
Mar. 20, 2020
The campaign launches with a 60' hero film, as well as 30', 15' and 6' cut downs for social
Latest News
Jun. 03, 2020
Movember and In the Company of Huskies have collaborated to light up Dublin's iconic Poolbeg Chimneys
Jun. 02, 2020
The 60-second film honours the sacrifices staff...