FCB Inferno transform office into gallery for emerging artists
Nov. 01, 2018
FCB Inferno is proud to welcome Tanoa Sasraku-Ansah as the first in a series of young artists to feature in-house art exhibitions at the agency's central London office building.

The bi-monthly exhibitions from a series of new artists will run throughout the grand entrance hallway of the agency's Covent Garden office and across their social media channels.

This initiative is one way in which the agency is finding new ways in way to reinvigorate its purpose to create interesting ideas for brands - ideas that audiences will find relevant and engage with in deeper, more meaningful ways. Research affirms time and again, that the more interesting the idea, the more it captures hearts and minds. In a world where we are bombarded daily by thousands of commercial messages, interesting ideas stand out and win hands down for brands.
Great Queen Street has a rich arts heritage. The building was formerly the Royal Masonic Trust for Girls and Boys, and previous residents include James Basire, a member of the Society of Antiquaries who took on William Blake as an apprentice in 1772, while supernaturalist Victorian painter Richard Dadd was also a resident of the street while studying at the Royal Academy. FCB Inferno moved into the building in 2014.
Chief Creative Officer, Owen Lee says:
"In order to create interesting work we need to be surrounded and stimulated by creativity and new ideas. Somebody needs to provide an antidote to the formulaic and forgettable work that makes up so much of advertising, and we are actively looking to support talent who create ideas that absorb, reward and enrich the audience."
Born in 1995 and raised in Plymouth, Devon, Tanoa Sasraku-Ansah works across varied media with themes examining the intersection of her dual identity as a British-Ghanaian, her identity as a young, queer woman and the endeavour to draw these senses of self together as one in 21st century England.
Tanoa's work can also be seen at the Tate St Ives until 6th January 2019 as part of the exhibition "Nashashibi/Skaer - Thinking through other artists" and she was recently featured in I-D / Vice as one of the alternative art graduates transforming the normative art world.
An ongoing series, Outdoorzy Types examines the minuscule selection of black characters featured in popular "extreme sports" video games of the early 2000s, what their presence (or lack of) means in the context of their respective in-game environments and the resulting effect on children of colour playing these video games, in terms of visual representation.
Sasraku-Ansah says:
"It is a pleasure to be showing a new series of work, which focuses on minority representation within visual media at FCB Inferno, producers of affecting and progressive visual campaigns such as #knifefree, This Girl Can and Queen Rules. In a time where we are very much observing a neglect for minority lives and a backlash against progressive thought, both in London and internationally, I believe that it is incredibly important for young, queer and BME artists to be given platforms to speak via their creative practice. I have no doubt that this is an exhibiting space that will continue to amplify dynamic and necessary ideas from young artists that will go on to impact those who will be moving through the building on a daily basis."
Related News
Jul. 17, 2019
The agency created five bespoke paisley patterns in collaboration with the artist Dan Funderburgh
Jul. 17, 2019
The first set of emojis will initially be made available to users as a Sticker pack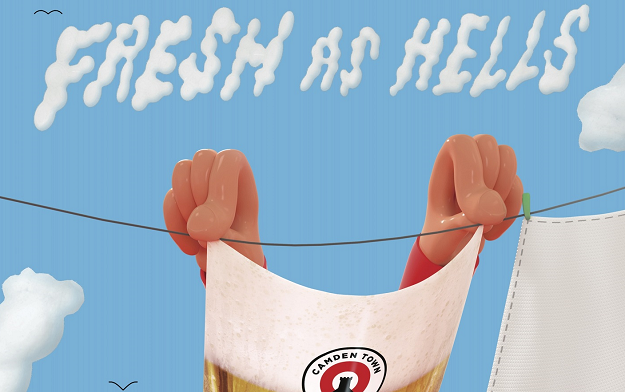 Jul. 10, 2019
Camden Town Brewery's biggest ATL campaign to-date champions fresh thinking and fresh drinking
Latest News
Jul. 18, 2019
Created by 72andSunny Amsterdam, the music video was directed by Ivana Bobic
Jul. 18, 2019
Artistry and authenticity are celebrated in a series of films and stills produced by Tony Petersen Film