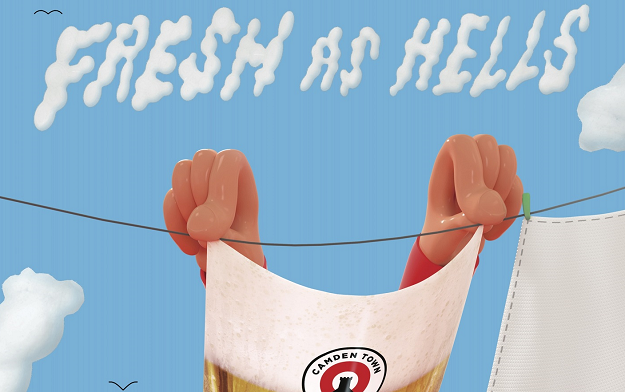 "Fresh as Hells" - A fresh take on beer advertising
Jul. 10, 2019
After Camden Town Brewery's 2018 Hello Hells campaign got more people drinking its lager than ever before, the brand has kicked things off with its newest campaign – 'Fresh as Hells'. Celebrating the fresh approach it takes to beer brewing, the campaign will roll out across OOH, print, and digital from today, marking Camden Town Brewery's biggest investment in advertising to-date.
Produced by the team at Forever Beta, the ATL marks the launch of the brand's newly articulated brand positioning of 'fresh thinking, fresh drinking'. Born in a basement in 2010, Camden Hells brought fresh thinking to the stale world of lager-making and since then they've never stopped doing things differently. Unlike many other beers, Hells is never pasteurised, giving it a clean, crisp taste that makes for a fresher, more flavourful pint.
This latest campaign works to capture the sensory feeling of 'fresh'; from freshly squeezed juice, to fresh bedding or fresh ingredients. The brand's print and digital ads have been designed to bring each of those experiences to life – with a Camden twist. Working with production house Jelly, they have created a suite of unique and distinctive OOH and digital assets including dynamic video and visual stills in a unique style.
Andre Amaral, Camden Town Brewery Marketing Director, said:
"From day one, freshness has been super important at Camden. The taste of Hells L ager is unique and we're very excited to launch a new campaign that celebrates that. Fresh as Hells pays homage to the fresh taste of Camden H ells L ager and to the mindset of Camden Town B rewery of doing things different ly to make them better ."
Forever Beta Executive Creative Director, Matt Saunby said:
"We wanted a campaign that looked f resh, sounded fresh and acted fresh and most importantly landed just how fresh tasting Camden Hells is."
Camden Town Brewery's Fresh as Hells campaign can be seen across London, Leeds, Manchester, Liverpool, Bristol and Edinburgh from 10th July 2019 for 4 weeks.
Related News
Jun. 09, 2020
The raft, the edge and the grove. These are some of the tables that can be booked at Nowhere...
May. 18, 2020
Zoom Filters that Help you fight Homophobia...
May. 13, 2020
The updated packaging for Sun-Maid snacks will continue to roll out nationally through 2020.
Latest News
Jul. 06, 2020
The story stems from the pen of the creatives at Jung von Matt/NEXT ALSTER
Jul. 06, 2020
Four One Club Board members including chair Susan Credle of FCB Global to speak on July 14 panel