Gerety Awards Announces Spanish Agency & Production Company of the Year
Jun. 02, 2023
Prior to the shortlist announcement due Tuesday, June 13th and following the Madrid judging session hosted at Diageo, the Spanish agency and production company of the year is announced. The Gerety Awards brings together an all-female jury to select the best in advertising from a powerful perspective, creating a benchmark that is relevant to the market reality, all while redefining the standard to which advertising has traditionally been held.
Agency/Production Company of the year by country is chosen by the local juries from the portfolio cut and requires a single film no longer than five minutes in length and includes up to three pieces of work from the past 12 months.
Sioux & Cyranos were awarded for their portfolio cut entry that included the following spots:
"Don Dinero" for Bankinter
"La verdad sobre la mesa" for Ruavieja.
"Big Bang" for Línea Directa.
Leandro Raposo, Creative President had the following to said:
"We have been waiting for this award for a very long time. The recognition given by an all-female jury with managing titles (and salaries?) in their respective agencies and advertisers. This year it was our turn and we are very grateful not only because they got together to give us this award but also because they got together".
Mamma Team were awarded for their portfolio cut entry that included the following spots:
Mother's Day, Tous
Mermaid, Bayer, LOLA MullenLowe
deVakantieDiscounter '23, deVakantieDiscounter, INDIE
Laura Vozmediano, Creative and Producer said:
"Mamma Team is deeply honored to receive the Gerety Award Spanish Production Company of the Year 2023. The all-female jury's unique approach showcases a commitment to diverse perspectives, reshaping the industry and setting new standards. We sincerely appreciate the awards' organizers for uplifting women in advertising and inspiring others. Thank you for this incredible honor; we are proud to be part of the Gerety Awards legacy, continuing our journey of impactful advertising".
Don't miss the Gerety jury insight panel for Spain and watch some of this year's jury as they discuss trends and favorite campaigns from the 2023 Gerety Awards. Rsvp here.
Moderated by Ana Isabel Mora, Editor in Chief Marketing Directo, the panel includes:
Gema Arias, Chief Creative Strategy Officer Kitchen
Inês Fonseca, Head of Marketing Johnnie Walker Diageo
María García Campos, Digital CD LOLA MullenLowe
Each year the Gerety awards celebrate their shortlist in Cannes with the famous Argentinian BBQ, Champagne, and Diamonds. You can RSVP for this exclusive BBQ and one of the most sought after Cannes invites here.
The global shortlist, and all of the agency of the year and production company of the year by country winners will be announced on Tuesday, June 13th, 2023.
Related News
Sep. 25, 2023
The Gerety Champagne cocktails are touring this year bringing together the Gerety community around the world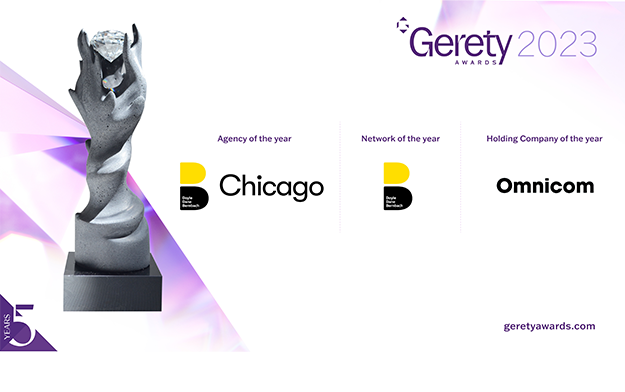 Sep. 12, 2023
DDB and Omnicom Take Top Honors at the 2023 Gerety Awards
Sep. 08, 2023
Gerety Talks with Tahirah Edwards Byfield, Katie Martin, Alyssa Georg and Sam Davenport. Tuesday, September 12
Latest News
Sep. 27, 2023
Yell Advertising reflects on its campaign to drum up engagement with Thailand's number one cooking gas brand, PTT LPG
Sep. 27, 2023
Wonder Bread and Old Spice, two iconic brands made even more iconic when each was prominently featured in the 2006 sports comedy Talladega Nights