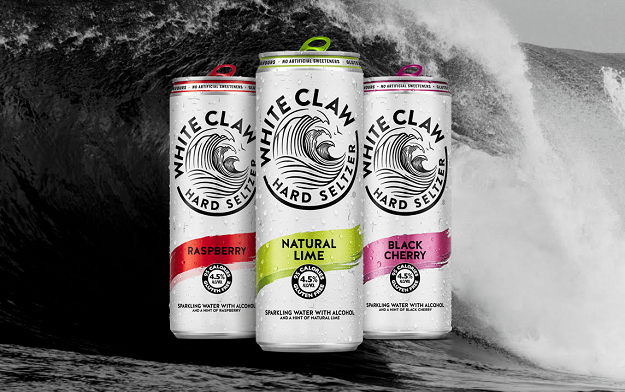 Rothco, Part of Accenture Interactive Launches White Claw Hard Seltzer campaign in the UK and Ireland
Jun. 25, 2020
White Claw Hard Seltzer, the no 1. Hard Seltzer brand that has taken the US by storm, is bringing the category to the UK and Ireland. Rothco, part of Accenture Interactive, helped launch the brand in the US and is again leading the launch campaign to introduce a new audience to the phenomenon that is White Claw.
In the UK and Irish markets, Rothco, part of Accenture Interactive and White Claw chose to carry through the brand's unique monochrome aesthetic and the legendary 'White Claw Wave' – that have become so well recognised in the United States – to the new campaign.
Due to the pandemic, Rothco, part of Accenture Interactive had to readdress what would work as a launch campaign in a world confined by restricted travel and social distancing. As a result, the brand will be introduced almost exclusively online, through online video, digital display and social.
The campaign spots and social content are shot in the White Claw brand's distinctive monochrome. In some of the films a surfer ascends from under a crystal-clear wave, whilst others focus on the waves themselves as they sparkle, break and undulate across the screen. The suite of ads echoes the brand's ideals of 'a wave of pure refreshment like nothing you've ever tasted before'.
The refreshing beverage of sparkling water with alcohol, most commonly called hard seltzer, was among some of the most popular drinks in 2019, commanding over 60% market share in the US and saw total sales up by over 240%. The category is currently valued at over $2.5billion in the US.
White Claw Hard Seltzer is made with sparkling water, triple distilled spirit and a hint of natural fruit flavour and heralds in a new era of drinking experiences. With only 95 calories per can, White Claw is gluten free, has an ABV of 4.5% is naturally flavoured and contains no artificial sweeteners. This has been a hit with consumers who are seeking better options to suit their active lifestyles.
Miriam Hendrick, managing partner at Rothco, part of Accenture Interactive, comments:
"The creative thought process in this spot was driven by thoughts about what the White Claw brand represents. Having established the brand in the US, we wanted to replicate the same success here. Part of White Claw's appeal is that it rejects standards. This drink transcends gender and is suitable for men and women alike, which is why we wanted to highlight fluidity through the spot."
Davin Nugent, CEO at Mark Anthony Brand International, Ireland, comments:
"We are delighted to be bringing White Claw Hard Seltzer to Ireland and the UK, the brand's first markets outside of North America and to once again be partnering with Rothco, part of Accenture Interactive in the process. Making the decision to launch in these markets was an easy one as Irish and British consumers have been hugely vocal on our social media channels, demanding we bring White Claw to these shores. We look forward to building the hard seltzer category on this side of the Atlantic and to hopefully replicating the same success as has been achieved in the US."
Related News
Nov. 20, 2020
Pantene's new video series tells the stories of real LGBTQ-adoptive families and hair moments that help them build a family bond.
Nov. 02, 2020
Very.co.uk has launched a heart-warming and funny new Christmas campain
Nov. 01, 2020
Dermot Malone directs the ad starring Ferdia Walsh-Peelo which draws on Joyce's iconic texts to create a celebratory film for the young Irish brand.
Latest News
Nov. 24, 2020
BUCK has unveiled its design work for the 2020 New Yorker Festival which was described as "an eclectic mix of conversations, performances, and experiences featuring some of the most talented and influential figures of our time."
Nov. 23, 2020
Exclusive partnership with School of Visual Concepts offers UX, UI and Content Strategy curriculum for creatives looking to retool with a modern skill set and broaden their job prospects.