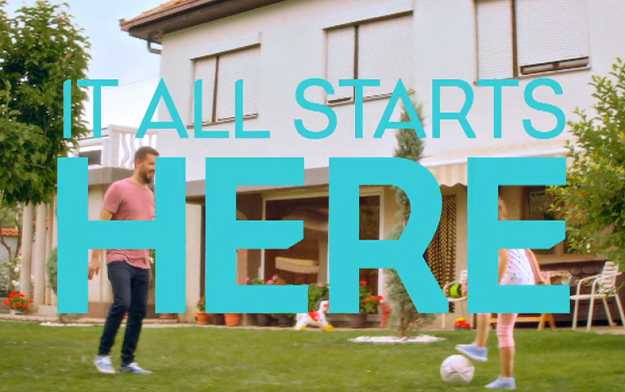 UEFA and FCB Inferno unveil "It All Starts Here" film as part of the Together #WePlayStrong campaign
Sep. 21, 2018
On 20th September, UEFA launched a new TV spot that will run across the 2018/19 Champions League and Europa League matches, finishing in the semi-finals in May 2019.
Building on the success of the 'Together #WePlayStrong' campaign which encourages girls to play football, this 30 second ad is aimed at fathers of daughters across Europe. It is designed to shift their perception about girls and women playing football and, ultimately, encourage them to promote the game to their daughters. It helps dads to realise that they can facilitate their daughters' relationship with football, and that there are lots of ways they can encourage and support their daughters' participation in the game. Created by Sarah Lefkowith and Matt Hopkinson, and directed by FCB Inferno's in-house director Alvaro Ramirez, the film will be supported by 6 and 10 second cut-downs across social channels and VOD.
Kayleigh Grieve, UEFA Women's Football Marketing Manager says:
"We launched our Together #WePlayStrong strategy over one year ago as a commitment to changing the image of football, making it cool for women and girls to play the sport. Our campaign has engaged over 5 million teenage girls alone on social media with content that shows the confidence, skill and togetherness the sport offers. With more and more parents, and dads in particular, becoming increasingly enthusiastic about their daughters playing football, the time is now to build on this momentum with our new TV spot and our supporting search, social and influencer campaign. From kicking a ball in the garden or watching local games on the television, football provides an opportunity for dads, sons and daughters alike to spend quality time together through their love for the sport."
Vicki Holgate, Chief Strategy Officer, FCB Inferno says:
"Academic research shows that girls can derive so much strength and confidence from playing football. And through our research we identified just how influential fathers can be in their daughters' lives, particularly when it comes to football. Many dads don't realise the poweful role they can play in encouraging their daughters to start and continue playing. Who knows where a simple kick around in the back garden might lead…?"
Related News
Sep. 28, 2018
Love + Money, Reelbase / Itchy & Scratch Pictures, and Flatpack Films create rousing advert shot in Budapest
Apr. 01, 2018
The campaign will run in print, on social media and the BMW website.
Mar. 23, 2018
New campaign features real-life inspiration to encourage young people to live #knifefree
Latest News
Oct. 12, 2018
Each country-themed burst runs for two weeks, making eight weeks in total for the campaign
Oct. 11, 2018
As a response to Kanye West's 000000 passcode, international creative agency Acne and Swedish telco Telenor has created a randomizer for passcodes stronger than his.