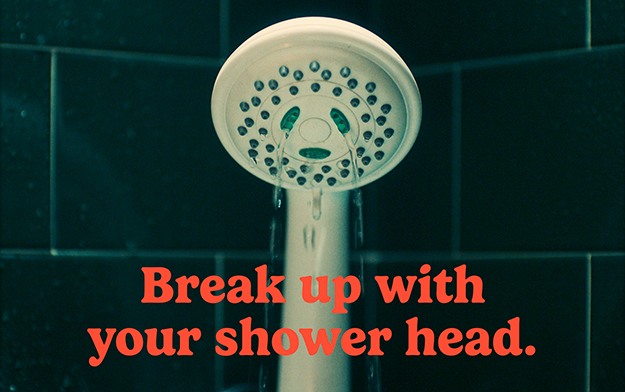 Ad of the Day | Sex Toy Brand Encourages Public to "Break Up" with Their Shower Head
Jun. 02, 2023
According to research, 28% of women admit to masturbating in the shower. While it's clearly a popular location for self-love, it also leads to the waste of around 121 Olympic-sized swimming pools' worth of water each year.
British sustainable sex toy brand, Love Not War, is encouraging the UK to end its love affair with the showerhead for World Environment Day on June 5th 2023, with the aim of reducing water wastage.
The planet-loving vibrator brand, which is famous for creating the world's first range of luxury, eco-friendly sex toys out of recycled aluminium cans, is speaking out against wasted water and is encouraging the public to prevent it by breaking up with their beloved shower heads in "Break up with Your Shower Head", a new influencer and social campaign launching today.
Created by independent creative agency DUDE:London, Break up with Your Shower Head aims to not only raise awareness about the environmental impact of water wastage but it also wants to encourage people that there are more sustainable answers to masturbation available.
With a heartfelt, but humorous approach, the film shines a light on the untold side of the shower masturbation story. It gives a voice to five showerheads, five broken-hearted and rejected ex-lovers as they share their experience of the breakup. They let their raw emotions flow, weeping at being used and now finally dumped in favour of a new lover: a Love Not War sustainable sex toy.
Now, Love Not War wants to inspire all women to end their unsustainable relationships too and switch their showerheads for a sex toy to help save millions of litres of water a year.
Will Ranscombe, CEO and Co-Founder of Love Not War said:
"Green practices have always been right at the very core of Love Not War's business model, with everything we do viewed through the lens of sustainability. Break up with Your Shower Head is no different. We're keen for people to know that by making the decision to 'break up' with their showerheads and switch to a Love Not War toy, they can save water and ultimately reduce their environmental impact."
Vic D'Andrea, Creative at DUDE:London added:
"What can I say other than this: it's brought us all real pleasure to work on this. This is the sort of project DUDE is all about, a great message, a great product and a great chance to really let loose and have fun… all for a great cause. We're so proud to have created something that stands out from the usual sex toy advertising, but that really highlights Love Not War's environmental ethos."
To help encourage people to make the leap and finally 'break up' with their showerhead, Love Not War is making the switch easy by offering 20% off their toys throughout the month of June.
Love Not War's entire range, which is designed and created in the company's custom-built, green-powered factory, is waterproof, rechargeable and each toy comes in two separate parts, the base and head. This makes each vibrator head detachable and interchangeable with all the other heads in the brand's range allowing you to have multiple toys in one.
Related News
Aug. 24, 2023
"Do Re Mi Fa Goal" created by DUDE focuses on a completely new passion for the bar fly community: karaoke
Jul. 12, 2023
Created with DUDE, Trainline has developed a unique and fun ad that highlights how using their app saves money to spend on more important items on vacation
May. 15, 2023
Danish Beer Brand Ceres launch "Our Street" campaign created by independent creative agency DUDE
Latest News
Sep. 27, 2023
Yell Advertising reflects on its campaign to drum up engagement with Thailand's number one cooking gas brand, PTT LPG
Sep. 27, 2023
Wonder Bread and Old Spice, two iconic brands made even more iconic when each was prominently featured in the 2006 sports comedy Talladega Nights