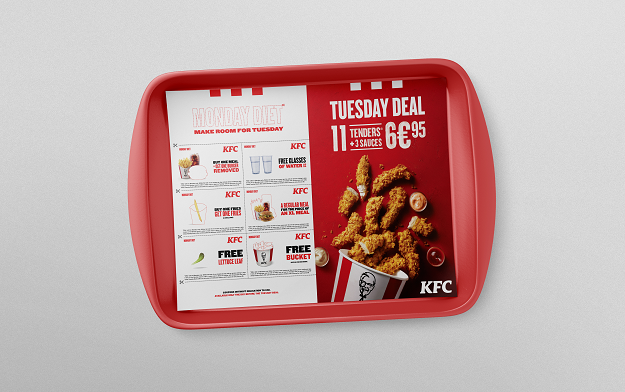 KFC France Offers Unusual Coupons to Promote Tuesday Offer, with Help of Sid Lee
Jul. 24, 2020
This summer, KFC France is bringing back one of its most exceptional offers, the TUESDAY DEAL, a bucket of 11 chicken tenders for 6.95E. But they also know that means you'll need a big appetite, which is why they're launching an even more exceptional offer – the Monday diet. Created by Sid Lee Paris, KFC's new series of unexpected coupons helps customers make room for Tuesday by offering less for more. A regular-sized menu at the "discount" price of an XL menu, a free empty bucket... Customers can even find coupons, which will be in store and distributed in deliveries, for 2 free glasses of water, one fry, or its healthier counterpart, a leaf of lettuce. KFC's generous offer, which began running July 13th, will be available until July 27th.
Related News
Jan. 26, 2021
Head, shoulders, knees and…those: Pleasure is an endless exploration
Dec. 10, 2020
Director Marc Sidelsky secures his first official U.S. representation with Cadence Films.
Dec. 07, 2020
Three stories, each bringing insight to life through humor and relatability, show that Samsung Pay is the best option in any situation.
Latest News
Feb. 24, 2021
Lobikis has been entrenched in the business and culture of the A-list production company for some time
Feb. 24, 2021
NASCAR wanted to create a welcoming environment at the airport