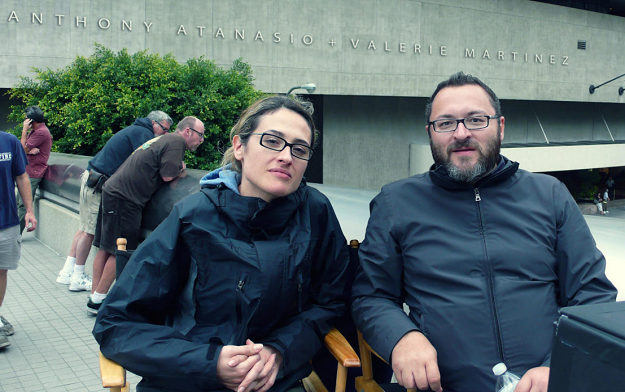 Logan & Sons Signs Award-Winning, International Directing Duo Atanasio + Martinez
Feb. 11, 2020
Logan & Sons, the live-action division of bi-coastal creative content studio LOGAN, has signed the dynamic, award-winning duo Atanasio + Martinez to their roster of celebrated directors. The husband-and-wife team of Anthony Atanasio and Valerie Martinez adds technical precision with a human touch to create compelling spots that nimbly move between the daring and mesmerizing to the delicate and whimsically clever.
Based in Los Angeles and London, Atanasio + Martinez's work is marked by rich cinematic textures and intuitive pacing that infuse their campaigns for such clients as Nike, Audi, Budweiser, Hermes and Levi's with the feeling of big-screen films.
Their sensational spot for Nintendo, "School's Out," which combines acrobatic action with soaring views of Tokyo, won numerous accolades, including a pair of Clio and Addy awards, respectively.
LOGAN executive producer Paul Abatemarco says:
"We're excited to bring such an accomplished directorial team to the Logan & Sons roster. Atanasio + Martinez have created some of the most ambitious and well-received campaigns in recent memory and add another creative powerhouse to our lineup."
Atanasio + Martinez's global campaign for Etihad Airways starring Nicole Kidman received high acclaim particularly for its accompanying virtual reality film that gave viewers an immersive VR experience aboard the airline's ultra-luxurious Airbus A380 jet alongside the Hollywood star. Kidman praised the duo's "unique eye" in capturing the ambitious project.
Atanasio + Martinez said:
"Logan & Sons has always been a very unique company, and we were attracted to the vibrant and exciting work their directors produce. We love their enthusiasm for what they do, and the special way in which they listen to and support original ideas."
Related News
Feb. 18, 2020
Brandon became increasingly attracted to the specific challenges of short-form media
Feb. 18, 2020
Annie was previously Creative Director at Digitas UK.
Feb. 12, 2020
The renowned digital expert takes over the digital and technology agency division at the Serviceplan Group
Latest News
Feb. 20, 2020
This series of picture was taken by Shelby Duncan
Feb. 18, 2020
The campaign aims to copy the codes of cosmetic advertising campaigns.