LRXD's New Campaign Presents Friday as a Novelty: Insurance With Benefits People Ask For
Nov. 20, 2020
Agency LRXD has created a new multimedia marketing campaign designed to present Friday Health Plans as a better insurance option than typical health plans. The Q4 TV, radio, OOH, and digital campaign coincides with Friday's expansion to new markets and communicates that the insurance company listened to members and added the benefits they want to its plans.
Friday Health Plans, which targets individuals and families who buy their own insurance, conducted research to check in with members as it was preparing to expand outside the Colorado market to Texas, New Mexico and Nevada. These insights were translated into unique benefits for customers. The new campaign focuses on that message and how Friday offers affordable insurance plans that actually make sense. LRXD is Friday's AOR, and this is the agency's fourth year working in a collaborative relationship with the client.
As with LRXD's previous work for Friday, 15- and 30-second TV spots and radio are humor-based. Ads have fun with the notion that an insurance company would actually listen to—and learn from—its audience. A pair of spots, set in a doctor's office waiting room, feature characters practicing dubious homeopathic remedies (leeches) and compromising circumstances (suspiciously itchy skin, flu-like symptoms) to highlight benefits such as unlimited $0 primary-care visits and virtual doctor's appointments. Another focuses on a family that has been stuck in lockdown for what seems like infinity to stress that mental health is an important part of overall health. Mom explains how Dad's hobby—building and flying model planes—is driving her bonkers, as they whizz around her head space, and their daughter articulates her agony as she endures boyfriend-withdrawal symptoms. Soon, the teens are making out through the steamy sliding-glass door.
Digital and OOH ads double down on these ideas and push further against the status quo by pointing out the ironies of health insurance and its inability to provide basic benefits at affordable prices. Why cover a body but not a brain? And why does "health" insurance only show up when we're sick? Simple visuals inspire people to shop around and see that there's a better option—one that provides the health benefits they actually want and need at an affordable price.
These new benefits include unlimited $0 primary-care visits (both in-person and virtual), free generic drugs, and $0 unlimited mental-health visits. Basically, people said they wanted health insurance that would actually keep them healthy without emptying their pockets.
LRXD Creative Director Andy Dutlinger said:
"Listening to what your customers want? This was a novel concept we loved and used as our campaign theme. There's not a lot of differentiation when it comes to health insurance, and Friday Health Plans was offering a unique set of benefits compared to similarly priced offerings."
The campaign's start and end dates vary by medium and market. For instance, Colorado began running ads in early October, but New Mexico will not kick off until early November.
The objective is to drive people who purchase health insurance to get a quote during open enrollment. Additionally, Friday wanted the work to be relevant to 2020 and "quarantine life," yet not feel exploitative, trendy or gloomy.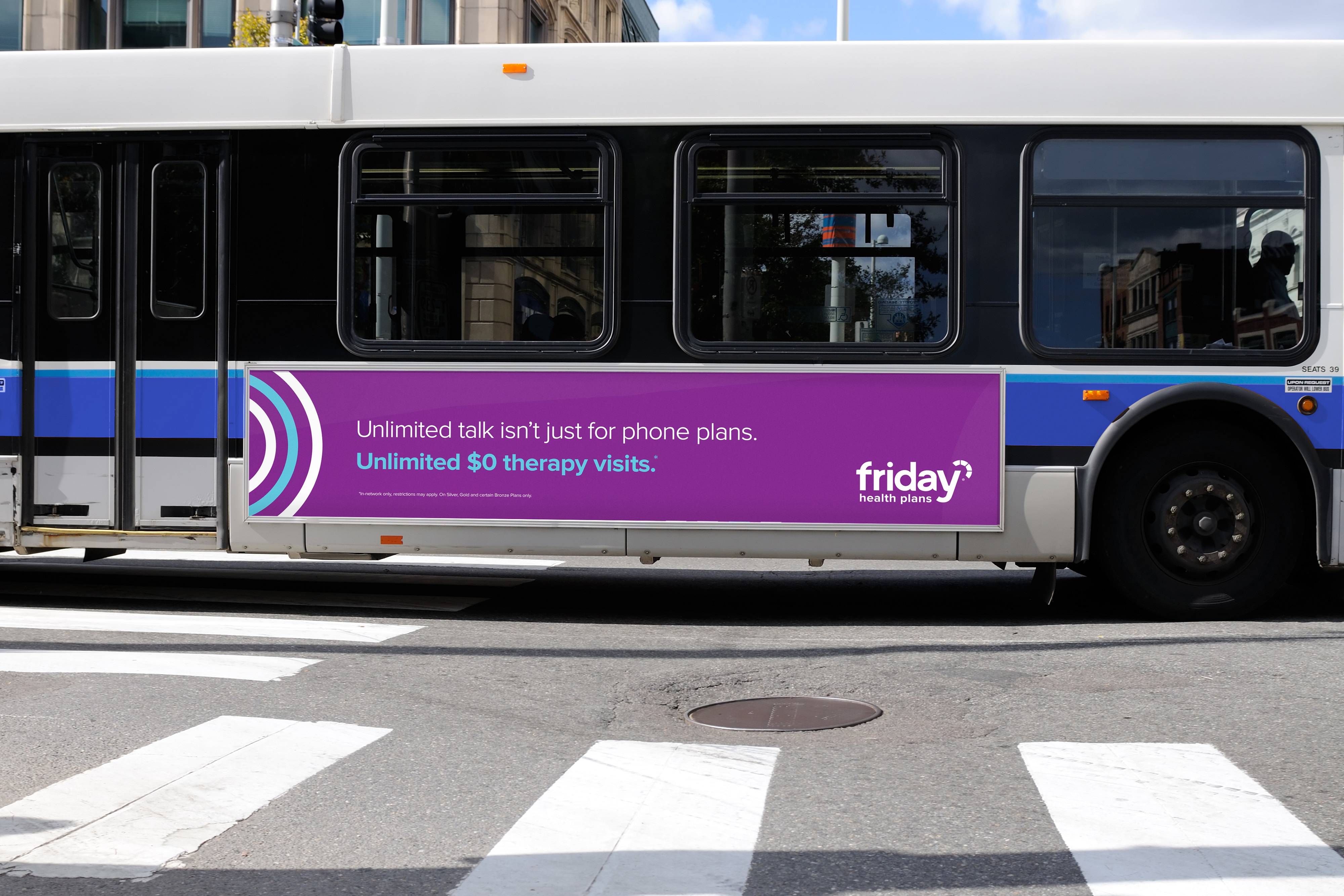 Related News
Apr. 12, 2020
LRXD will also promote the series with fun, '80s-themed assets
Latest News
Jul. 29, 2021
Each year New York Festivals recognizes global companies
Jul. 27, 2021
A Buzzman campaign; available on social media from July 27 to August 8.