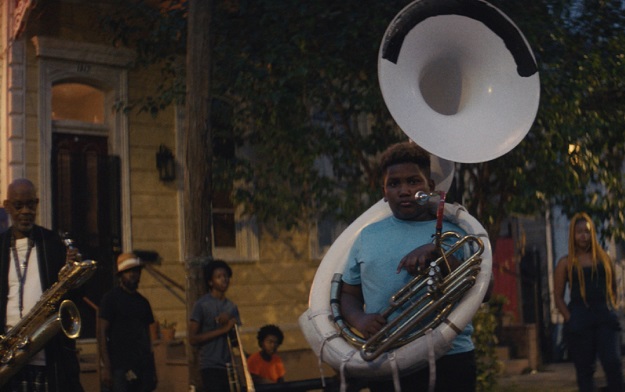 New Orleans Music Students Star in New PSA with Trombone Shorty
Feb. 10, 2021
When the COVID-19 pandemic rolled across the globe, it silenced live music everywhere. Perhaps nowhere was that silence more deafening than New Orleans.
To help offset the fallout for struggling musicians, the New Orleans Jazz & Heritage Foundation launched a Music Relief Fund last spring. Through their efforts, they've distributed more than $1MM to musicians across Louisiana. And this year on February 9, one week before we endure a silent Mardi Gras, the New Orleans Jazz & Heritage Foundation will commence the next wave of relief efforts in partnership with independent creative agency LIGHT+CO, by asking people everywhere a simple question:
Have you ever been saved by a song?
Jazz & Heritage Foundation's latest effort will kick off with a PSA entitled "Rise and Shine" -- helmed by director Benjamin Sonntag and featuring New Orleans' own Troy "Trombone Shorty" Andrews -- created to reawaken the New Orleans and to invite music lovers everywhere to join together and help the city's sound carry on for generations to come.
Of the collaboration, Sonntag remarks:
"When there's a cause attached to art, the vision is easily shared, dialed in, and everyone puts their heart into it. Every person involved wanted to make the best film possible for the foundation and was open to how we got there. There was no ego, just a truly unified effort. Everyone was all in."
David Cameron, CEO, LIGHT+CO added:
"By cancelling live music in New Orleans, the pandemic robbed the city's musical community of not just their sound, but their livelihood. Their ability to make ends meet, and do what they do best: share their sound with the world. We've all had that moment when music has saved our lives. Now it's time to save music,"
On Marshall, Executive Director, - New Orleans Jazz & Heritage Foundation said:
"In my years of working with the New Orleans Jazz & Heritage Foundation, I don't think I've seen a more powerful and authentic representation of our city or musicians than the "Rise and Shine" PSA."
"For generations, the musicians of our community have been the true soul of Louisiana. The goal of this fund is to help our musicians impacted by quarantine, disruptions of income, and several other challenges, all while ensuring an equitable distribution of funds."
Troy "Trombone Shorty" Andrews said:
"It's been a rough time for our city's musicians – many are hurting. Being a part of that community, I know that we have to be there for one another. We've always banded together to help each other – it's more important now than ever. Music lovers, join us to help keep NOLA music alive."
Related News
Apr. 26, 2021
The TV portion of the Noid campaign was conceptualized and developed by creatives at CPB
Mar. 15, 2021
The campaign rolls out across TV, print and digital
Feb. 07, 2021
The spot features the Big Game debut of actress and comedian Maya Rudolph
Latest News
May. 06, 2021
All-electric SAV from BMW is bought to life with a futuristic set
May. 06, 2021
All the datais stored safely and access to it on the server is restricted