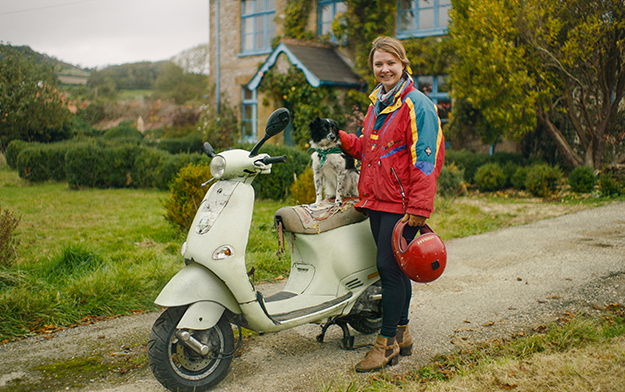 Where The Buffalo Roam Captures Woman's 30,000 km Adventure On A Vespa In Storybook Fashion
Jun. 22, 2022
Where The Buffalo Roam (WTBR) recently partnered with Piaggio Studios – the content arm of Piaggio Group – to create episode two of "Vespamania," a short film series celebrating the world's most beloved scooter brand and its passionate riders. The film tells the incredible story of 24-year-old artist Emma Trenchard, who embarked on a two-and-a-half-year 30,000 km adventure to Mongolia with an adopted dog on her Vespa 125 named "Grettle." Piaggio Group premiered the film on Vespa platforms worldwide.
The 10+-minute film fares into Trenchard's eccentric world in storybook fashion, with stylized video portraits of her journey and life at home. Her lore further unfolds through the stories shared by a colorful cast of characters from her hometown, a pastoral seaside community, which too emerges as a character in the film.
Led by creative director Tuesday McGowan and director David McMurry, the documentary breaks the boundaries of non-fiction storytelling in the branded content arena – think Free Solo meets The French Dispatch meets "This American Life." The concept called for every tool in the WTBR artbox, spanning live-action, animation, design, illustration, and human-interest journalism.
McMurry, who directed the pilot episode about a Vespa collector, says episode two is a more character and story-focused twist on the format.
McMurry, who discovered Trenchard's story on a podcast said:
"We found a lot of magic in the pilot episode and quickly realized Vespamania afforded the opportunity to tell a deeper story around the ideals of the brand – one in which Vespa is a vehicle for freedom and adventure in the pursuit of something bigger than ourselves. Emma's story and charisma embodied everything we could have wished for and more."
WTBR's production crew traveled to Trenchard's Dorset County home to document her story. Their interviews extended to family and friends, who shared anecdotes about her enigmatic lifestyle as no one else could. McMurry also featured Trenchard's family home and its pastoral surroundings as a prominent character in the story, framing the idiosyncrasies and ambience of each scene like a postcard.
McMurry said:
"From the moment we arrived, we were in awe of the people and the natural beauty of Dorset. The cinematography benefited from the overcast glow of the region – colors always look amazing under the cloud-silked sun – and the sense of place also helped anchor the story. Our incredible editor, James Boger, meticulously combed through hours of archival photographs and GoPro footage from Emma's road trip to bring all of her experiences into narrative form alongside the elements we shot and created."
WTBR animators Chris Carmichael and Jake Pryor punctuated the film with motion treatments of Trenchard's scrapbook from her journey, which included original writings, photographs, and illustrations. They also created title cards and original animations, including an accurate immersive map of her adventure, complete with camels, yaks and Mongolian horses.
The design and animation is imbued with vibrant colors inspired by Trenchard's personal aesthetic, which she expresses through her artwork, fashion, and the cakes she creates at her pop-up bakery in the park. The team also incorporated colors of the Vespa brand, whose heritage of scooter colors have defined the company as an Italian style icon since 1946.
McGowan remarked:
"We wanted everything to feel organic and handmade because that's how Emma presents herself and her work, so we leaned into cel animation and stop motion while incorporating an array of textural mediums, such as pencil, charcoal, and watercolors."
McMurry concluded:
"What I love about documentary storytelling is the unexpected discoveries when you bring a curious and open mind to new and unfamiliar places. In this case, Emma's world is more fantastic than anything you could ever script. We are grateful for the trust and openness the cast and Piaggio Studios gave us to tell their respective stories. We look forward to finding the next Vespa lover to tell their story."
Related News
Sep. 07, 2023
WTBR has created another installment of Vespamania, a short film series celebrating the world's most beloved scooter brand
May. 25, 2023
The spots are comically blunt and stay true to Dollar Shave Club's unpretentiousness and rebellious sense of humor
Oct. 25, 2022
Creative production company WTBR produced a spot showcasing why the platform is still the worldwide leader
Latest News
Sep. 28, 2023
DAVID New York's first campaign for Supercell aims to bring chess players into Clash of Clans' and Clash Royals' strategy world
Sep. 28, 2023
Bella's Representation Also Includes Devine Reps on the U.S. East and West Coasts, and Jack Reed in the South