ImOn Communications: Who's On
Media Type:

TV
Fortnight Collective is out with a new ad for ImOn Communications not a month after it debuted its first commercial for the Super Bowl. In this :30 spot called "Who's On?," four people show up on a group online call, all with names that rhyme with "on." After announcing themselves, one is found to be muted. As Jon struggles to unmute, Ron says, "You should get ImOn." "We know, Ron, tell Jon," says Don. Yvonne chimes in, "Keep your pants on."
More from ImOn Communications
ImOn Communications: Always On, Smart Home
0.0
ImOn Communications: Always On, Wi-Fi
9.0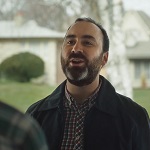 ImOn Communications: Neighbor
9.0
Latest News
Sep. 30, 2023
KICKZ M3TA, the Metaverse joint venture that includes basketball and fashion retailer KICKZ, Jung von Matt NERD, and brandneo, is launching the "Mooncourt"
Sep. 29, 2023
Music collaboration, by bringing together diverse talents and perspectives, significantly elevates the effectiveness of an advertisement