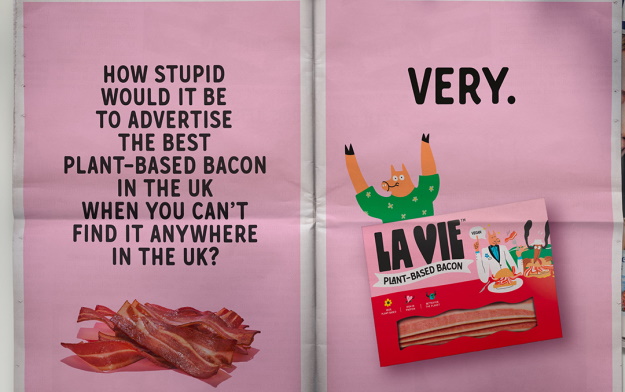 After Launching a Campaign for an Unavailable Product, La Vie™ Is Finally Coming to the UK
Oct. 04, 2022
French start-up La Vie™ aims to seduce the British with the arrival of its plant-based bacon. Now available in Waitrose, Sainsbury's and Honest Burger restaurants, La Vie™ has succeeded in making all Brits pine for it by promoting the product before it was even released!
Promoting a product that is not yet on the market is the successful gamble of La Vie™ and Buzzman. Through a campaign full of self-deprecation, with piquant catchphrases, tinged with the quirky and well-known french English humor, La Vie™ has made our friends across the Channel mouths water.
So the plant-based bacon has been a long time coming. Good news, it's available since 19th September, the British will now be enjoying it at breakfast !
The campaign was first launched with a spread in The Guardian on September 3. It was complemented by 5 OOH visible in the UK from 6th September and was supported by a social media component. The second phase began on September 20 with a series of 3 billboards broadcast on social media.
Related News
Nov. 17, 2023
In its new campaign, Celio has once again chosen to celebrate all those anonymous, regular everyday people
Nov. 13, 2023
After #Anti2010 and the Notifications activation, BURGER KING® is continuing to take a stand for the 3rd year in a row
Oct. 30, 2023
In 2023, there are scarier things than monsters and ghosts during Halloween
Latest News
Dec. 08, 2023
Carlsberg and Liverpool F.C. proudly announce a 10 year extension of their historic 30 year partnership
Dec. 07, 2023
52% of Gen Z prefers staying home on a typical weekend night rather than going out