Halal Brings In New Talent Including Cultural Heavyweight As MD
Dec. 16, 2021
Just weeks after announcing a new concept and strategy division, the production arm of HALAL is further expanding its staff roster with six new hires, including a Managing Director in the form of ex-Dutch National Theatre Chief Financial Officer, Tati Vereecken-Suwarganda. The MD role is new, and has been created as the result of a sustained period of significant growth.
Alongside Vereecken-Suwarganda, Aemilia van Lent joins as Executive Producer, Job Sanders is promoted to Head of Production, and Daan Janssen joins as Post Producer. The photography department is expanding with Charlotte Brugman coming in as Photography Producer, and Jessie van de Wiel taking on the role of Production Coordinator. Also, Anouk Arends has been confirmed as HALAL's PR Coordinator.
Tati Vereecken-Suwarganda has a background in leading organisational transformations and extensive experience as (executive) board member of renowned Dutch art institutions such as Cobra museum for modern art, RIGHTABOUTNOW Inc, International Theatre Amsterdam, SONSBEEK, Foundation for Art and Public Domain, Appel arts centre and HUMAN public broadcasting agency.
Tati Vereecken-Suwarganda said:
"Throughout my career I've really enjoyed working with creative people. So what I'm bringing to HALAL is definitely a sincere love, and a deep understanding of nurturing talent in a professional environment that's sometimes crazy, mostly fun, but also deadline-driven. For HALAL I see it as my role to take good care of HR and HQ, meaning I aim to act as a day-to-day enabler and problem solver in order to nurture creative processes and allow for future growth."
Following a freelance career at HALAL, Czar and Eyeforce, Aemilia van Lent headed up production at DPPLR before being hired by HALAL:
"What makes me excited to be joining HALAL is that the directors are all people whose work I really admire and respect. I also really like the fact that the company focuses on so many different kinds of content, and the challenge of dealing with that eclectic, whatever-it-takes approach."
Charlotte Brugman is the new Photography Producer after a stint freelancing, followed by a full time role at Scrambled:
"Since the start of my career I've admired the campaigns HALAL produced and the talents they represent. I also really appreciate that HALAL knows how to deliver on client requests in the very best and original way."
Jessie van de Wiel joined Halal as Production Coordinator in the Photography Department after working at The Family, Spark and Dept Agency:
"I'll be bringing enthusiasm and good energy to everything I do at HALAL, and I believe my get-things-done attitude and fashion background can offer new, fresh avenues for the department."
After four years at Fever Film, Daan Janssen has joined HALAL as Post Production Coordinator:
"HALAL dares to experiment, is innovative, young and the company makes what it wants to make. My mission is to bring structure, peace, post-knowledge and find solutions, so that creative processes get the freedom and space they need."
Newly appointed PR Coordinator Anouk Arends worked at We Are Public and Witman Kleipool before joining HALAL:
"I'm excited to work with HALAL as it definitely feels like the most intriguing production agency in town. Not only do they make beautiful art, but they also invest in a better future and create projects that warm hearts, while oozing dedication through their work."
Anouk will be working with freelance PR consultant Jessica Hartley.
Job Sanders, promoted to Head of Production from his previous role as Executive Producer, has been at HALAL for the last six years.
Gijs Determeijer said:
"The last several years have been thrilling and fulfilling in so many ways, and we're very proud of what HALAL has become in that time. What that means on a daily basis is that we need more talented people to keep the wheels turning, and it goes without saying that we extend a warm welcome to and think very highly of Tati, Aemilia, Jessie, Charlotte, Daan, Job and Anouk. We know they'll make a positive difference to HALAL and be key parts of the next phase of the company's evolution. We as partners find it especially exciting to pass on the baton to Tati as our new MD. I, for instance, will be gladly focussing more on talent development and new business, without having to manage day-to-day affairs."
Related News
Jan. 19, 2022
Lavor will be responsible for leading the agency's planning team and its strategy discipline in the region
Jan. 19, 2022
Full service content company VOLT Studios is excited to electrify the new year with the addition of Senior Producer Jenny Cadwell
Jan. 19, 2022
Executive producers DJay Brawner and Max Rose announce the signing
Latest News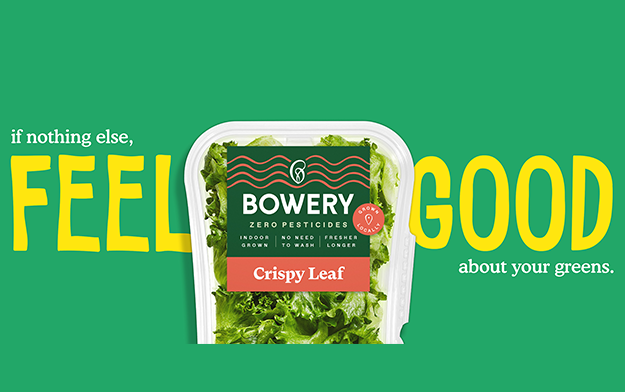 Jan. 25, 2022
A marketing campaign is inspiring everyone to eat and feel their best
Jan. 24, 2022
Prom is the latest film in the global Alexa campaign from Droga5 London