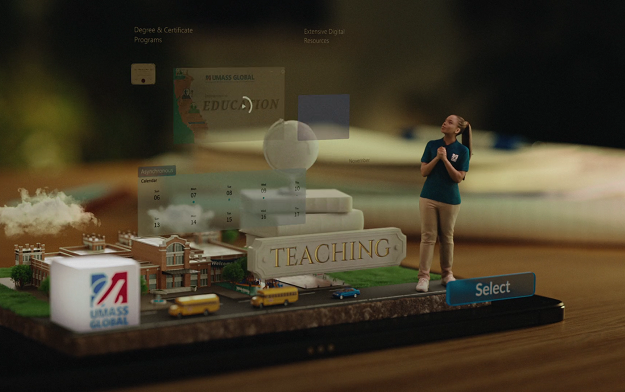 Innocean and Aggressive Craft Miniature World of Education for UMass Global
Jan. 25, 2023
University of Massachusetts Global has joined forces with Innocean and creative studio Aggressive to create its latest campaign, "Meet You Where You Are In Life".
The two spots offer a glimpse into the busy days of prospective and current students at UMass Global. With a moment to spare while on the train or dinner's in the oven, they turn to their devices, ready to learn. A miniature CG world of education springs out from their screens, complete with a tiny professor, engaging diagrams, and interactive features. When their free time is up, they simply switch off and return to their activities - continued education with UMass Global is as easy as finding a quiet moment wherever you are, whatever you're doing.
The brief from Innocean and UMass Global was to create two 30" films capturing the notion that college courses and registration - everything we consider rigid and tedious - can be flexible and easy to access. Innocean's team also had the exciting idea of conveying this message through the creation of miniature worlds that encompass the essence of learning - an entire university inside your laptop.
In bringing UMass Global's online classes to life, Aggressive started with rounds of design styleframes, starting as early as the initial treatment, refining it all the way to the shoot. Allowing themselves time to experiment, they worked collaboratively with Innocean, exchanging sketches and ideas until they reached the best possible concept for each shot.
To craft the realistic miniature Professor and Enrollment Coach and incorporate them into the CG worlds, the Aggressive team reached out to Evercoast. The Evercoast team set up their volumetric capture system on set in Prague to 3D scan the actors with an array of specialised cameras, reconstructing them using Evercoast's magical software to create hyper-realistic, moving, 3D models of the talent and their performance. These were then placed into the miniature CG environments, allowing for easy repositioning adjustment. Most importantly, they were lit using the same CG light sources as the rest of the miniature elements, allowing for smooth camera moves around the UMass ecosystems.
One of the most complex scenes to craft was the train, needing to balance out the freedom of movement in the wides, and the small-scale nuance required for the close ups of the laptop. For better control, the team at Aggressive built a train set on a stage, hanging a long LED screen outside the train car window which ran an Unreal Engine environment.
The passing landscape was built from scratch, developed as an optimised and fully controllable procedural system of spawning city levels in real-time.
The team was thus able to create a realistic feeling of motion that was easy to manage on set: they could change the speed of the train, the sun position and weather, lensing or camera angles, or even the motion blur of the outside. They could also ensure that the scene was accurately lit by the moving scenery, generating moving lights and shadows inside the train car, as well as realistic reflections and refraction in the windows and other surfaces.
Alex Topaller, Co-Owner of Aggressive said:
"Aggressive is multidisciplinary by nature, so mixing complex techniques is second nature to us, and we collaborated with a very large team of superior talent on this job."
Dan Shapiro, Co-Owner of Aggressive said:
"As with all our projects, the key is to work with people you like, respect, and trust, and to give everyone the space to safely play and experiment, while defining the box we are all playing in. Many of our collaborators, artists, and crew on this project have been on this ride with us for many years, so even the most challenging productions are fun adventures, and a true pleasure."
Shannon Wilch, Senior Creative at Innocean said:
"Aggressive brought our concept to life with innovative technology and creative problem solving. The volumetric capture of the talent and the LED screen behind the train car on set took the films to another level. They were great creative partners who made the process feel painless."
Chris Ott, Senior Producer at Innocean said:
"When you have ambitious creative, involving VFX and 3D animation, coupled with a challenging budget, you know you need to find a talented and savvy production partner who can do it all. The Aggressive team was able to take care of every step of the process from production through delivery. They have great long-standing relationships with foreign service and tech vendors, and are very experienced at finding the efficiencies without compromising the creative work. From the moment we received their treatment, we knew that Aggressive had the right stuff. I was kind of blown away with what they were able to accomplish, on time, and for the money."
Travis Swingler, Senior Creative at Innocean said:
"The goal was to tell a relatable story in a memorable way, but also not have any of the VFX and camera-work overwhelm the experience. Aggressive's collaborative approach allowed us to quickly find the perfect dynamic we were hoping to achieve - a balance between emotion & spectacle."
Marc Lyncheski, Director of Creative Services at UMass Global said:
"Millions of working adults are looking for ways to improve their lives, and they know that college is the solution. They are just struggling to fit it into their lives. We are grateful that the team was able to really bring our experience to life."
Ben Nunez, CEO at Evercoast said:
"Deploying Evercoast's 3D volumetric platform for the creation of assets in a completely 2D commercial shot halfway across the world demonstrates the reach volumetric video has beyond virtual and augmented reality, and how innovative, multidisciplinary companies like Aggressive can achieve a creative vision that may otherwise be unattainable."
Related News
Sep. 29, 2023
Joining Aggressive founders Alex Topaller and Daniel Shapiro are Loop, Niceshit, Andrey Trevgoda, and Melody Maker
May. 22, 2023
Combining Unreal Engine and 3D scanning technologies, "MURALS" confronts viewers with the reality of the war
Sep. 03, 2022
Creative studio Aggressive and ad agency Piro deliver CG sensation showcasing a new digital landscape for Viant
Latest News
Nov. 30, 2023
Audi is taking audiences close to communities of modern-foragers and master-chefs through a new social content series, Taste of Progress
Nov. 30, 2023
Lleading provider of spoken word entertainment, have launched an innovative outdoor campaign demonstrating how storytelling can dramatically transform our every day