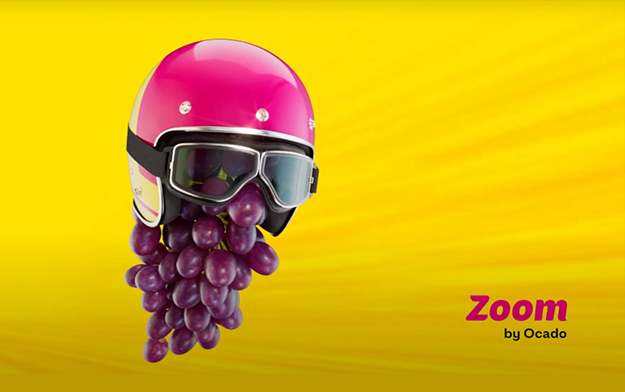 New Advertising Campaign By St Luke's For Launch Of Rapid Grocery Delivery Service Zoom by Ocado
Jun. 07, 2022
Ocado Retail, the world's largest dedicated online grocery retailer, is launching its new advertising campaign for Zoom by Ocado the rapid grocery delivery service, which will appear until 18 September 2022.
The new 360o campaign, devised by St Luke's, takes a fresh, fun take to Zoom by Ocado which offers an unbeatable range of over 10,000 products – delivered at incredible speed, for the London area.
The 30-second ad features fun humanised, animated grocery items wearing motor-cycle helmets lining up to get to destinations quickly, retaining freshness. The voice-over uses rhyming couplets to introduce "controversial pizza toppings (pineapple)"; "or that extra kick to get your tongue popping (chillies)"; to "something to make your porridge less bland (raspberries)". The endline is "Zoom by Ocado – the speedy grocer app with mountains of choice."
Zoom by Ocado targets Londoners who can opt for delivery within 60 minutes or select a one-hour time slot; and showcases the online retailer's incredible range at great prices and value. The campaign will appear across VOD, OOH, DOOH, social and digital display, with media planning and buying, through location marketers Pintarget.
Zoe Hannah, Senior Customer Lead for Zoom by Ocado said:
"Zoom by Ocado is a rapid delivery service, which doesn't compromise on choice– it includes Ocado's own-label ranges, M&S branded lines and hyper-local suppliers. We're set apart from the competition by our mountainous range of over 10,000 products to choose from, delivered in under 60 minutes. We are hugely excited to showcase this fantastic proposition in this fun interpretation of speedy groceries. We hope that our new campaign brings a smile to Londoners' faces this summer."
Alan Young, CCO of St. Luke's adds:
"Ocado's unique range of produce and branded products make this an ideal opportunity to add a playful personality to the Zoom by Ocado campaign. We hope the humorous portrayal of fast-moving items such as pineapples in safety helmets and the rhymes are a memorable and human connection to the new delivery service."
Related News
Jul. 29, 2022
Butterkist marks the women's England team reaching the #WEURO2022 finals on Sunday 31 July with bespoke social animation
Jul. 12, 2022
Old Mout and WWF celebrating four years of partnership
Jul. 07, 2022
St Luke's has pounced on the opportunity to highlight unmissable moments of drama this year with its #GoGrabTheButterkist campaign
Latest News
Aug. 09, 2022
REVERSE recently teamed up with agency The Many
Aug. 09, 2022
Lucrecia recently worked on the music video for Ibeyi ft Jorja Smith's track "Lavender & Red Roses"