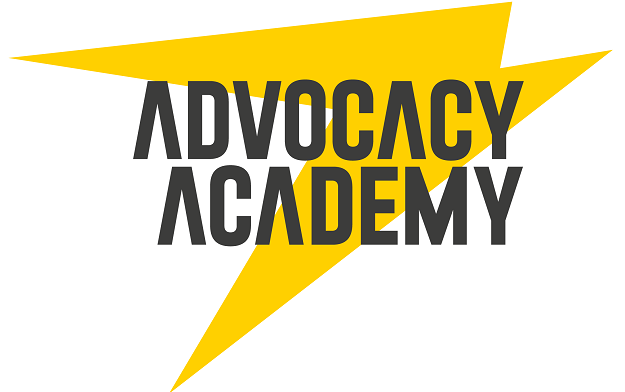 The Advocacy Academy Launches Brand Redesign with FCB Inferno
Mar. 24, 2020
The Advocacy Academy is a transformational social justice youth fellowship that focuses on harnessing the anger of young people to create positive change. The Advocacy Academy aims to train the most radical and creative young people they can find and give them the knowledge, confidence and tools to have a real, lasting impact. The Academy works with 16-18 year olds from South London, and prioritises applicants from low socioeconomic backgrounds, BAME, women, LGBTQ+, with disabilities, young people, refugees, migrants, carers, and those not in full time employment or education.
In 2019, FCB Inferno offered their expertise to refresh the Academy's brand identity with an instantly recognisable new logo that could also function as a symbol of their movement, capturing the energy, passion – and anger - of the young people they work with. This launched across their website on the day The Advocacy Academy's Class of 2020 graduated from their flagship Fellowship programme.
At a time of political unrest and public protest, FCB Inferno is excited to have created a unique symbol behind which a community of young leaders will be galvanised to fight for the world as it should be. FCB Inferno worked closely with The Advocacy Academy's Founder Amelia Viney to build on the original concept and branding she first envisioned in her bedroom in 2014.
FCB Inferno Design Lead Sarni Strachan and creatives Jayshree Viswanathan and Chelsey Redshaw worked with the Advocates, Alumni, staff team, and Founder Amelia to nail down the Academy's core values to develop an immediately recognisable logo that the team will use on everything from letterheads to flags to fly at protests.
The Advocacy Academy's Founder Amelia Viney said:
"As we reach our sixth birthday, The Advocacy Academy has graduated 100 young leaders from our social justice Fellowship programme. This is the first time we have had a logo as powerful as our community. We follow in the footsteps of transformative movements for justice, all of whom have communicated the story of the world they are creating through unmistakable imagery - whether the colours of the Suffragettes or the branding of Barack Obama. FCB Inferno has given us the gift of a visual identity that will galvanise a generation of South London activists. Look out for a stencil version on streets near you."
Each Class of Advocates is supported to deepen their understanding of injustice and take action to change it. From the Legally Black campaign, which tackles the under representation and misrepresentation of Black people in the media, to Fuck Your Fetish, a subvertising campaign fighting the hypersexualisation and fetishisation of women of colour, The Advocacy Academy's Advocates are winning real and lasting change.
Despite its success, The Advocacy Academy isn't showing any sign of slowing down either. Their Advocates been taking Parliament by storm with their powerful, progressive and defiant speeches, have won a BAFTA for their short film on colourism, and have even made it to the front page of the Observer Magazine.
FCB Inferno's CCO Owen Lee, said:
"The last year has been an exceptionally powerful time of change, and we are honoured to be involved in a small way to help empower the young change-makers create the future."
Latest News
Jun. 29, 2020
Maersk charts new territory with business transformation, connecting the world in new ways
Jun. 29, 2020
No Purchase or Payment of Any Kind is Necessary to Enter for a Chance to Win